Jan 1 2015
Fire Alarm System Installation.
One of the most important fire safety devices in a home is a smoke and fire alarm system. Several studies have concluded that when working smoke alarm systems are present, the chance of dying from the fire is cut in half.  Smoke alarms currently in place have saved thousands of lives, but several problems exist. First, the 12% of homes without alarms have more than half of the fires; second, it is estimated that a third of the smoke alarms in place are not working, often due to failure to replace a worn out battery; and third, many homes do not have as many smoke alarms as are needed to protect the occupants properly. For more information on home fire causes, check out Total Protects' article Know The Facts To Prevent Death and Fire From Faulty Dryer Vents.
Check your home's smoke alarms.
Inspect your home's smoke alarms. It could be a matter of life and death. FEMA reports more than 3,500 people die in fires each year, and more than 66 percent of residential, fire-related deaths occur in homes without a working smoke alarm. These devices can malfunction, and they should be inspected at least once a month to ensure they are operating properly. With smoke alarms powered by batteries, be sure to replace the batteries at least once a year.  Having a smoke alarm with a dead battery is like not having an alarm at all.  A safer approach to fire alarm systems is to interconnect the fire alarms with low voltage wire and provide  the alarm with power from that wire as well as power for a battery.
Will You be Able to Hear Your Alarms?
The ultimate test for smoke alarms is their ability to wake you when you are asleep. This generally means that the nearest alarm to the bedroom can be no further away than in the next room with the intervening door open.
Electrically hard-wired fire alarms can be connected together so when one alarm activates, all interconnected alarms go off. Although many fire alarm systems in new homes have this feature, most older homes do not.  With a hard-wired fire alarm system any alarm in the home can awaken you in your bedroom if the nearest alarm is loud enough to do so.  An electrical contractor or master electrician is a necessity when installing an interconnected electrical alarm system.
Goodiel Electric LLC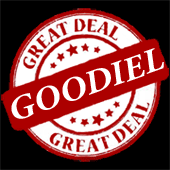 .
Glenn Goodiel.
Mobile: 772-263-2333.
Florida License – EC13005097.
For a Great Deal, call Goodiel Electric.
Master Electrician and Martin County Electrical Contractor.